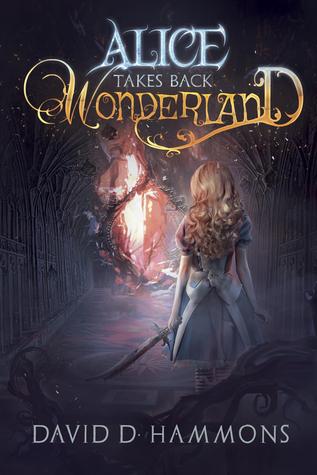 A Copy of this book was provided to me by Netgalley in Exchange for an Honest Review!
As always lets start with the blurb: "After ten years of being told she can't tell the difference between real life and a fairy tale, Alice finally stops believing in Wonderland. So when the White Rabbit shows up at her house, Alice thinks she's going crazy.
Only when the White Rabbit kicks her down the rabbit hole does Alice realize that the magical land she visited as a child is real.
But all is not well in Wonderland.
The Ace of Spades has taken over Wonderland and is systematically dismantling all that makes it wonderful. Plain is replacing wondrous, logical is replacing magical, and reason is destroying madness. Alice decides she must help the Mad Hatter and all those fighting to keep Wonderland wonderful.
But how can she face such danger when she is just a girl?
Alice must journey across the stars to unite an army. She discovers that fairy tales are real in the magical world beyond the rabbit hole. But they are not the fairy tales she knows.
Fairy tales have dangers and adventures of their own, and Alice must overcome the trials of these old stories if she wants to unite the lands against Ace.
With the help of Peter Pan, Pinocchio, Snow White and heroes old and new, Alice may have the strength to take back Wonderland."
I find myself torn with this one. On the one hand, I really honestly enjoyed myself with it, for the most part. The re-imagining of the various fairy tales were inspired and unique for one. The idea, for example, and Snow White is a booze runner was hilarious, and that she was having a feud with Red Riding Hood was just the right amount of insane.
The basic story here is that Alice in Wonderland really happened, and that Alice is not a girl from the Victorian era of England, but rather a girl from our time. Apparently, the "rabbit hole" that connects the dimension of Wonderland to ours is almost a wormhole, and echos of events that take place in Wonderland and its fairy tale neighbors escape to our world, and become the books we read. Because Wormholes don't follow time and space laws, you end up with the story of Alice going to another reality and becoming a book written in the past, for example.
When Alice gets back home however, no one of course believes her in regards to her adventures, and they start drugging him with anti schizophrenia and ADHD medications. This was something I could understand, as today parents frequently heavily medicate their children.
Eventually Alice grows up, and around 17 years old sees the White Rabbit, who steals her meds, and drags her back into Wonderland, where all hell has broken loose…because Wonderland is changing.
From there Alice goes on a journey to find a way to save Wonderland. She meets a colorful cast of characters, deals with a few challenges, and then the one thing that pisses me off about the book occurs.
Romance happens. Suddenly, without warning, and without any logical reason I could see.
One of the first people Alice meets is Peter Pan, who tells her that she is a Fairy Tale to him as he remembers his book before he came to Neverland. She knows Peter Pan as a fairy tale.
She askes for his help and they team up after she helps him solve some issues. They act, for the majority of the book, as just a pair of friends. No real hints of romance or anything. Then suddenly after a major battle…Peter kisses her, and next thing you know the two are inseparable. I had to sit there and think for a minute pondering if I missed something.
I did not.
The ending in fact happens the way it does SOLELY because of the two of them being suddenly in love.
At least the ending did not sequel bait.
Overall I enjoyed the book but the ending honestly soured it for me. If the romance had made sense I would have been fine with it, but it did not. Not for me at least.
I rate this a 3/5 and suggest it to anyone who likes twisted fairy tales. Honestly, they are the best part. Alice is nice and all, but when you meet Pinocchio you will smile broadly, I promise.
View this book on Amazon
View this book on Goodreads
Alice Takes Back Wonderland by David D Hammons – A Review